Posted on 25 July 2011 by admin
Swiss Turners Gymnastics Academy, located in West Allis, WI, is developing a most impressive roster of young optional gymnasts.  Vitali Kan and Josiah Eng both placed in the top 36 in the Level 9 AA competition at the recent JO Nationals.  Steven Jaciuk and Paul Montague ended up in the top 50 in Level 10 (16-18).  Jaciuk will be competing for Coach Mike Burns at Minnesota in the upcoming season.  Meanwhile, Swiss had two of the top 5 all-arounders in the Level 10 (14-15) division.  Dmitri Belanovski and Marvin Kimble placed 4th and 3rd, respectively.  This powerhouse club, former training home of Paul and Morgan Hamm, is easily one of the top-ranked men's programs in the country.
Coached by Andrei Kan, Kimble followed up on his outstanding 2010 Level 9 performance at JO Nationals, where he placed 3rd AA and qualified for the finals on 4 events.  As a 1st-year Level 10, Kimble took 3rd AA and was the national champion on rings.  This high school sophomore also qualified on 5 events in the event finals.  A member of 2010-2011 Level 9 Junior National Team, Kimble's star is rising, and he will make his debut next month at his first VISA U.S. Championships.  He is almost a sure-fire candidate to make the 2011-2011 Level 10 (14-15) Junior National Team.
2011 JO Nationals (Level 10 14/15)
3rd AA
1st Rings
3rd Floor & pommel horse
6th Vault & parallel bars
2010 JO Nationals (Level 9)
3rd AA
2nd Pommel horse
4th Parallel bars
6th Rings
2009 JO Nationals (Level 9)
19th AA
4th Parallel bars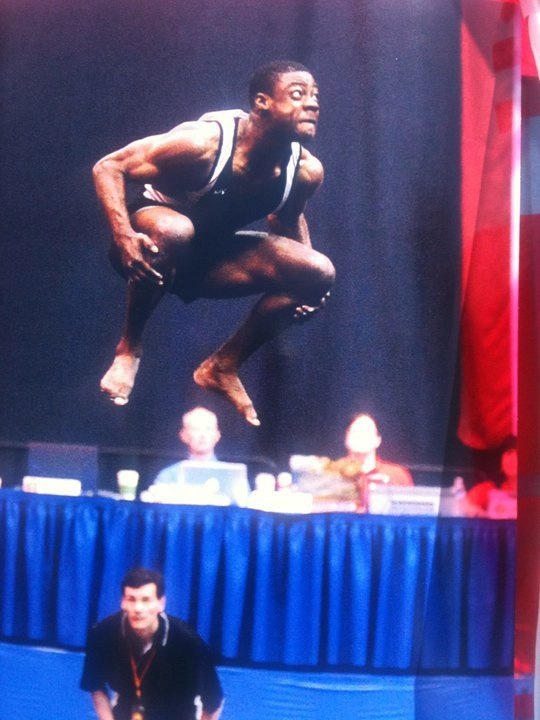 StickItMedia had the recent pleasure of interviewing Marvin Kimble:
SiM:  How did you get started in gymnastics?
Marvin:  When I was a little boy, I used to go around the neighborhood doing back flips off everything I could climb.

SiM:  What are your biggest challenges to remaining highly competitive?
Marvin:  My biggest challenge is staying healthy.  Another challenge is making my weak events my strong events.

SiM:  What are your proudest achievements?

Marvin:  My proudest achievement was making the National Team 2 years in a row.  Another great achievement I had was getting first on rings at Nationals.
SiM:  What are your most challenging events, and why?
Marvin:  My most challenging event is high bar.  When I first start learning dismounts, I hit my feet on the bar, so after that I never wanted to do high bar.

SiM:  What are your goals for the 2012 season?
Marvin:  My goals for next season are to hopefully get a national AA title and make all 6 event finals. Another goal is to make the National Team.  But my biggest goal is to go to the Olympic trials just to see what it's like and have that great experience.
SiM:  Please describe your experience training at Swiss Turners.
Marvin:  Training at Swiss is a really interesting experience.  At Swiss, everything we do has to be a contest, and that's why most of us there know how to compete so well.  But then again, we all know we're on the same team, so after a contest, win or lose, there are no hard feelings.  At Swiss, there are a lot of different coaching styles.  So if we do something wrong, we have like 5 different corrections. Another reason I love training at Swiss is because there is a lot of love and support for each other, especially from the parents.
SiM:  Who are your role models, and why?
Marvin:  My biggest role model is my coach Andrei Kan.  One reason he is my role model is because he has helped me so much these past couple of years.  Another reason is because he is one of the most successful men I know in and out of the gym.
Another one of my role models is my teammate Steven Jaciuk, because he has battled through a lot of tough injuries in his life.  Steven has helped me get through some tough times this year, like right before nationals.  I was having a tough time hitting and getting through routines, so after one practice, I started walking out the gym and Steven called me over to talk.  He told me that "everything is going to be fine, so don't worry about not hitting your routines.  I know when it comes down to big meets, you're clutch.  So just keep your head up and you'll be fine."  I wish him much luck in college!
SiM:  Where do you see yourself three years from now?
Marvin:  Well, I really want to go to Michigan.  It's a really good school and my dream college.
SiM:  Please describe how your classmates and athletes in other sports see your success in the gym.

Marvin:  My classmates really don't know much about gymnastics and what it takes to be successful.  But my friends in other sports think i am very successful in gymnastics, and some have said I have a very bright future ahead of me.

SiM:  What ideas do you have that you think would increase the popularity of men's gymnastics?
Marvin:  I think if they showed gymnastics more on ESPN, then people might actually want to try to do gymnastics.  If I didn't do gymnastics, I think I would want to try it and see what it's all about.
SiM:  What is the best advice you've ever received?
Marvin:  The best advice I've ever received was from a good friend.  She told me that one day she was talking to Paul and Morgan Hamm, and they both said that I have a very bright future, and that they really don't want me to screw it up.  So my friend told me that I should never start doing any kind of drug because it will mess up my bright future.
SiM:  What are your biggest challenges in managing your social life, academics and gymnastics?
Marvin:  It's really hard to manage all these at once because as soon as I get out of school, I have to head straight to the gym.  I have no time in between school and practice to do homework or hang out with school friends.  After I get out of practice and drive home, it's already 11:00pm, so I have about an hour to do all my homework and get to bed.  It's really a struggle to manage them at once, but in the long run I know it will all pay off.

SiM:  What is your favorite thing about walking into the gym every day?
Marvin:  My favorite thing is to walk in the gym and see my coaches and teammates every day.  Also, I enjoy working hard and getting better for next season.