Posted on 12 March 2012 by admin
The 2009 season was a turning point for Jake Martin.  After topping out in the top 36 as a Level 9 at the 2008 JO Nationals, the next season became Martin's breakout year.  A 7th place AA finish (Level 10/14-15) at the '09 JO Nationals in Cincinnati led to a 3rd place AA that summer at the U.S. Championships, where he also had top 5 placements on four events (FX, PH, VT, HB).  Many club gymnastics fans were wondering where this kid came from.  Well, after the '08 season, Martin made a switch and started training at Orlando Metro under the tutelage of Casimiro Suarez.  Armed with a very strong fundamental base, Martin was challenged and pushed to the limits at Metro, as Suarez was able to encourage Martin to new heights.  In the span of one season, Martin made an incredible transformation into one of the top elite performers in club gymnastics.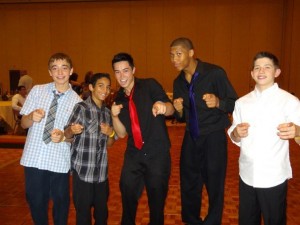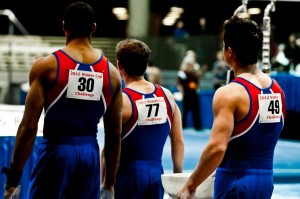 The following season was an opus of sorts for Martin.  He completed a grand sweep in August '10 by winning the Level 10 (14-15) AA title at the U.S. Championships, adding a national title on high bar for good measure.  This was after winning the AA at the 2010 JO Nationals.  2011 was a confirmation season as Martin continued his run as one of the nation's top club gymnasts.  After placing 2nd behind Adrian de los Angeles in a classic battle at JO Nationals, Martin finished 4th place at the U.S. Championships, just 1.15 points behind the winner de los Angeles.  He also claimed top 5 placements on three events (SR, VT, HB).  In perhaps the highlight of the year for Martin, he signed a full-ride gymnastics scholarship with Ohio State, where he will enroll in the fall.  There, in Columbus, he will be reunited with Suarez, who is now completing his first season as the Buckeyes' Assistant Coach.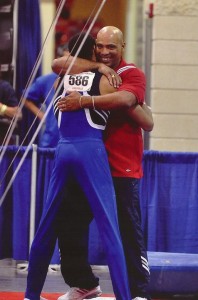 Shortly after Suarez assumed his new duties at Ohio State, Martin and Metro teammate Sean Melton moved to Colorado Springs to train at the Olympic Training Center under Coach Vitaly Marinitch.   In Martin's first major competition of the 2012 season, he was the highest placing junior at Winter Cup, finishing in 13th place.  As he completes his final season of club gymnastics, there is no doubt Martin would like to go out with a bang, especially it being an Olympic year.
StickItMedia recently had the pleasure of interviewing Jake Martin.
SiM:  How did you get your start in gymnastics?
Jake:  When I was younger I would run around the house and do flips.  I excelled really fast and my cousins taught me how to do a round off and a backhand spring.  My parents saw my progress and decided to sign me up for rec classes so that I would have a safe place to practice.

SiM:  What triggered your relatively meteoric rise to the elite ranks of club gymnastics?

Jake:  It's hard for me to say the exact cause, because even now it blows my mind when I think about where I came from and where I am now.  Before training with Casimiro (Suarez), I trained under Macey Watson.  He taught me really good basics, so when Cas started training me, his technique and ability to coach helped me progress really fast.

SiM:  What are your biggest challenges to remaining highly competitive?

Jake:  Maintaining my physical health is a pretty big challenge.  I think this is just something that all gymnasts have to deal with.  To keep up with the new difficulty in gymnastics, we have to put a lot of stress on our bodies.

SiM:  While you were at Orlando Metro, you trained alongside some pretty good gymnasts.  How important was that to you, and what were your most memorable times?

Jake:  I think training with other gymnasts that are on the same competitive level as you or higher is very important.  I don't think a lot of people realize that I only trained at Orlando Metro for three years.  Before that, I was at a few different gyms that didn't have any of the big gymnastics names.  While I was at these gyms, I competed against Orlando Metro and Universal all the time, so I saw how all of them competed 4 or 5 times every year.


It wasn't until I actually came to Metro that I was able to see how they trained and that's what made the difference.  It was the first time that I was on a competitive team and I wasn't the best anymore.  This helped me a lot because I had a coach that knew exactly how to coach kids to get to that level, and I had a group of teammates I could look to for help and advice.  The most memorable part of Metro was the fact that almost everything turned into a contest.  We weren't striving necessarily to beat each other, but we wanted to be the best we could be as individuals, and more importantly, as a team.

SiM:  What is the most important training advice you've ever received?

Jake:  When I first started competitive gymnastics, I had a lot of fear trying new skills.  I remember one day after balking a P bar dismount and falling, my coach telling me, "nobody cares if you don't get up."  It seemed harsh at the time, but it has stuck with me because it's true.  If I stop myself from excelling because of fear, it's only going to hurt me.  No one will ever know what I could have done.  Instead, they will only know what I do.

SiM:  What is the most memorable life advice you've been given?

Jake:  "If you compare yourself to others, you may become vain and bitter; for always there will be greater and lesser persons than yourself."  It's from a poem called Desiderata that my mom introduced me to.  My parents have always told me to be myself and no one else.  Everyone has their talents and weaknesses.

SiM:  What are your proudest achievements, both in and out of the gym?

Jake:  Although becoming a Jr. National champion will forever be one of my greatest moments.  I have to say my proudest achievement was looking back at the end of the year in 2009.  I remember at the beginning of that year, Cas asked me what my goals were.  I told him I had never made all around finals at JOs, and that was the only thing I wanted.  He laughed and told me that that year I wasn't only going to make JO finals, but also be on national team too.  I didn't believe him then, but later that year when I was competing in Brazil with USA on my chest, it finally hit me.  This was the beginning of my dream coming true.

As far as outside of the gym, I'd have to say it was signing with OSU.  It still has to do with gym, but I think what makes it special is that when I was in 5th grade, I decided that I was going to be a Buckeye.  I watched a lot of their gymnastics, and I really liked Miles (Avery).  I told everyone I knew that OSU was where I was going.  It was an indescribable feeling having kids from elementary and middle school telling me congratulations on making it to the school I said 7 years ago I would attend.

SiM:  Which events challenge you the most, and why?

Jake:  Rings is pretty challenging because I still have a lot of work to do on my strength.  However, the most challenging by far is Parallel Bars.  I don't have the typical gymnast body.  I'm tall and lanky.  My knees hit the ground when I hang, so it makes almost all underbar skills impossible to do.

SiM:  What do you think is the most important thing the men's gymnastics community can do to better promote the sport?

Jake:  I think maybe more TV coverage of the men's side could really help promote gymnastics.  A lot of people don't know much about men's gymnastics, and they oftentimes confuse it with women's gymnastics.  Many of the bigger meets are already being covered but it may be easier to get more viewers with college gymnastics.  The viewers would be able to associate names and faces to the different colleges, and they would probably be more excited to see the gymnasts representing their respective universities.  

SiM:  How has the transition of leaving Orlando to live & train at the OTC been for you?

Jake:  It has been really good.  It's all really different, but I think the increased training hours under the eyes of Vitaly and Andriy are working very well.

SiM:  What are some of the most important lessons you've learned while being at the OTC?

Jake:  I think living out here by myself has taught me how to be independent and manage my time.  This is a very good place to start the transition from living with my parents to living in a dorm.

SiM:  What's it like to live and train with some of the best athletes in the country?

Jake:  It's a really good experience.  I get to see not only how they train but how they live.  Every day I see the progression and hard work they put in.  This really helps me evaluate my training habits, mind set and performance.  They all also bring different tips and advice that are really helpful for me.  Whether the advice they give is technical, mental or about life style choices, it's all very important when looking at my overall development as a competitive athlete.

SiM:  What are your gymnastics and academic goals for Ohio State?

Jake:  I think Ohio State is really going to improve my gymnastics.  I feel with Rustam (Sharipov), Cas, and the support of a team like Ohio State's, it's really going to help me to reach my potential as an individual, as well as being part of a team, and hopefully make World and Olympic teams.  I feel very confident that we will be able to win Big 10 and NCAA titles, and I look forward to it.

Academically, I'm not exactly sure what I want to do but I'm hoping to do something with language.  I've been studying mostly Spanish and French with a few other romance languages on the side.  I want to put my skills to good use by working with corporations like the Peace Corps or maybe a linguistics position with the Central Intelligence Agency.

SiM:  What is your favorite thing about walking into the gym every day?

Jake:  My favorite thing is the fact that I'm living my dream.  Not everyone has the chance to do this, so I'm going to take it and run.  This is my journey, and every day I walk into the gym I get one step closer to all of my goals.