Posted on 09 September 2015 by admin
The start of the 2016 NCAA Men's Gymnastics season is almost four months away.  What a great prelude to an Olympic year it will be!  Many current NCAA gymnasts will end up earning invites to the Olympic Trials.  With so much on the line, a college season during an Olympic year is especially exciting.  With so much going on in 2016 — Winter Cup, NCAAs, JO Nationals, P&Gs and Olympic Trials — all happening in a condensed season, there will be no shortage of opportunities to remind people why men's gymnastics is always a prime-time televised Olympic sport.
University of Minnesota Head Coach Mike Burns has submitted the following update on the status of NCAA Men's Gymnastics.  He has made us all aware of the top mandate for gym fans… We need to fill up St. John Arena April 14-16.  Ohio State will be hosting the 2016 NCAA Championships, and will be a logistically desirable location to draw large numbers of fans from all over the midwest and beyond.  We've received our marching orders… Let's Fill Up St. John!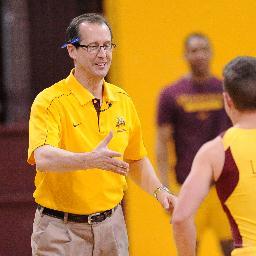 By Mike Burns
After returning from the P&G Championships, I spoke to a fan of men's collegiate gymnastics who had heard talk in the stands of the future of Men's NCAA Gymnastics. The discussion centered on the length of time before NCAA Men's Gymnastics no longer existed. That's a statement some may think has some potential to come true in the not so distant future. I think we all need to be very careful how we frame our conversations. Sports psychologist and former gymnast and coach Jason Selk told me once – "that which you focus on expands." Think positive thoughts and more positive things can occur. Think negative thoughts and more negative things can occur. Choose wisely in the ongoing discussions about the future of NCAA Men's Gymnastics. My former boss Kurt Golder at Michigan always says "If you're not part of the solution, you're part of the problem." So let's try and focus on finding solutions rather than focusing on all the reasons some think we are doomed.
The possible elimination of Men's NCAA Gymnastics is indeed a negative thing and the trend over the years of dropping programs has gotten us to our current situation with 16 programs in the NCAA. Some may look at us as too small to survive. I say we are too valuable to go extinct.
On the second day of the Men's Competition at the 2015 P&G Championships, there were 39 gymnasts competing. Here's a quick breakdown of those 39 gymnasts:
16 are alumni of an NCAA Program




15 are current members of an NCAA Program




4 are starting their NCAA careers this fall




3 are non-NCAA gymnasts




1 is a Junior in High School



89.7% of all the male gymnasts on Day 2 of P&G's are current, former, or soon-to-be NCAA student-athletes. Those 31 former and current NCAA have competed in a combined 84 NCAA Team Finals. These guys know what it means to compete for a team in a high pressure situation. Pretty valuable experience for those who go on to compete for Team USA in a World or Olympic Team Finals.
As the NCAA morphs into its new "Power 5 Conference" domination of re-writing the rules of college athletics, it becomes essential that those of us who value the collegiate gymnastics experience help it to survive. With 16 programs still in existence we are teetering on the precipice of possible extinction. We have been teetering here for a while – close to 20 years now – and we are still here. Yes we have seen the demise of many a great program – UCLA, Iowa State, Oregon, Cal-State Fullerton, and Southern Connecticut to name just a few. We lost Temple just a year ago. Some may forecast cloudy skies with 100% chance of continued bleakness for years to come. Others prefer to focus on the excellence that still exists within the remaining 16 programs.
NCAA Men's Gymnastics is an exciting sport. The quality of the athletes and the level of competition at the NCAA Team Finals every year is off the charts. The focus on the team is unique and it definitely is more about the name on the front of the jersey than the one on the back. The meet embodies what competing with your teammates for a common goal is all about. Many Olympians claim their experience in the NCAA Team Finals is what made competing in the Olympic Team Finals a little bit easier – "We've already been through the pressure cooker for our college teams."
Back to survival – if we want our sport to survive we can all help. Here's how – attend the Team Finals of the 2016 NCAA Championships at Ohio State on April 15, 2016. If you're an alumni of an NCAA program this is your chance to help us survive. Buy a ticket, go to the meet – it's really that simple. Some alumni have told me they stay away because the scoring system is too confusing, or the meets are too loud (back in the old days it was quiet during routines – sorry, those days are gone), or I can't follow the meet because there is too much going on at once. All valid concerns that need to be eliminated from the excuse bucket for not helping our sport survive. Here's a quick tutorial on scoring – a 14.5 is higher than a 14.0. If a team scores more 14.5's than 14.0's they will beat a team that scores more 14.0's than 14.5's.  Many would like to see the NCAA go back to a 10.0 system. I can't change that right now and I feel like it might work against us in the long run (more on that later). But if you're there to support your favorite team, then help us out and be in attendance.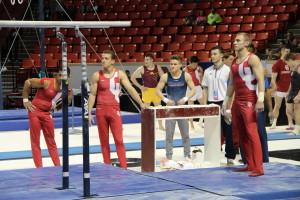 We have a directive from some important folks at the NCAA – filling the arena for the NCAA Championships is the highest priority right now to help our Championships. When I hear this, I know a packed house in 2016 at Ohio State is our number 1 priority. But we need the help of the gymnastics community – alumni from as many programs as we can get (even from programs that no longer exist), junior gymnasts and their parents from the USAG Region 5 Championships, which are being held the same weekend at Ohio State University, students from Ohio State and surrounding schools, other gymnastics fans from Columbus and the whole state of Ohio. We need your help. We need you to attend – plain and simple. This is something we can do.
Not only does the future of the Men's NCAA Program depend on this but long term the future of the entire Men's Program depends on it too. The USOC realizes it can't fund the developmental pipeline that the NCAA programs provide to the Olympic movement. The NCAA programs pump the lifeblood of the US National Team program. Not to take anything away from those who chose the non-NCAA route over the NCAA route – they are incredible athletes and are some of our most impressive gymnasts on the floor- but without the 35 gymnasts on the floor of the P&G Championships with NCAA roots, would they have this much competition to contend with?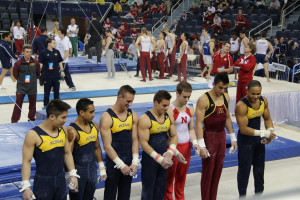 The USAG Junior Program created them with amazing coaches working long and hard to develop them alongside their club teammates who may not be Olympic-bound but certainly may be NCAA-bound. That team dynamic at the junior level is part of the motivation many young gymnasts latch onto – "I might not be able to make the Olympic team but I know I'll be a darn good teammate on a college team." Lose that motivation and maybe the young Sam Mikulak or the young John Orozco loses their interest at age 13. The potential pitfalls could be devastating.
Part of the solution right now is pretty simple – be part of the largest crowd to attend an NCAA Championships since the early 80's when Nebraska had over 25,000 fans attend the Championships they hosted. I had the good fortune to compete in the 1980 NCAA Event Finals in front of a packed house at the Bob Devaney Sports Center. Huge crowd, great experience!! We need that again and I believe we can do it with your help.