Posted on 05 March 2017 by admin
The future is here.  Two current stalwarts of NCAA Men's Gymnastics dominated the podium at the 2017 American Cup.  2016 NCAA champ Yul Moldauer (85.931) occupied the top spot, and 2015 NCAA champ Akash Modi (84.398) earned the third spot.  Sandwiched in-between was Olympic silver medalist (AA) Oleg Verniaiev (85.699).  For Moldauer, it was the second jewel (Winter Cup) captured so far this season.  He has a few more goals this year, but his next big stop will be at next month's NCAA Championships.  Modi will obviously have something to say about that.  Winning a second NCAA AA title would be the icing on the cake to close out Modi's stand-out collegiate career.  Only the prospect of winning a NCAA team title would trump that.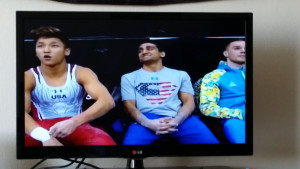 Moldauer had the day's best score on FX (14.566), and also had top-3 scores on five events.  Modi tied with Verniaiev for the top score on PB (15.033) and had top-4 scores on five events.  Moldauer needed a 13.502 on his final event (HB) to win, and he was the meet's last competitor.  Moldauer came through in the clutch (13.733) to win his first international World Cup event.  The meet was filled with miscues by many in the field, but our two guys went 12-for-12 to secure their spots on the podium.  Moldauer and Modi were not only the weekend's highlight, but they also set the stage for a great day of college men's gymnastics.
It was a pretty nice day's work for a couple of college guys, and it's a shame they had to miss the Palo Alto Brawl, but they tuned in later in the day to watch their teammates go at it from 3000 miles away.  Speaking of which…
If there has been a better dual meet in the last decade or so, I want to hear about it.  The Palo Alto Brawl was every bit as good as advertised… In fact, even better.  Before the meet even started, Stanford came up big by solving a connectivity issue which has prevented live scoring to be transmitted from Burnham Pavilion.  That enabled live-stream viewers to not only watch the meet, but also to follow the unfolding drama via a live-scoring feed from start to finish.  And it did go all the way to the finish, thanks to Robert Neff, Stanford's anchorman on high bar.  Neff not only became just the fifth gymnast to hit for 15 on that event this season, but he destroyed the previous NCAA high score.  Neff's 15.50 enabled Stanford (432.05) to come within .25 of tying the top-ranked Sooners (433.30).
In a meet that saw too many season/career/team/individual highs to mention here, the Sooners and Cardinal traded slugs all night.  Oklahoma won the first four events, but was never really able to establish much separation.  The Cardinal roared back, winning as a team on PB and HB.  Their team HB score established a new NCAA standard (73.65), and almost accomplished the practically unthinkable task of knocking off the defending national champs.  Neff and Allan Bower had a battle royale of their own in the AA.  The two newly minted Senior National Team members ended their personal contest with Bower barely on top (86.95-86.40).
The teams compiled five scores of 15-plus… Neff (HB) and Taylor Seaton (HB-15.05) for Stanford, and Bower (PH-15.30), Tanner Justus (VT-15.10) and Levi Anderson (HB-15.20) for Oklahoma.  Bower's and Justus' big scores were good enough to win event titles.  Seaton had a huge day, putting up a gaudy 14.84 average on four events, including his winning score on FX (14.95).  Stanford's other new National Team member, Grant Breckenridge, helped key his team's late charge with a 14.33 five-event average.  The Sooners' Alex Powarzynski, coming off his two event wins last weekend, is becoming quite a spark for the team (14.57 3-event avg.).  Sophomore Peter Daggett has also been capitalizing on his increased role (14.70 2-event avg.).  Daggett scored a career high 14.95 on his winning PB routine.  Thao Hong took honors on SR (14.75) to lead the Sooners on that event.
Stanford became the third team this season to compile scores of 70-plus on all six events.  They bettered their previous team high by almost 10 points.  The Sooners also scored 70-plus on all six for the first time, and hit the 430 mark for the third time.  We saw two teams without their top gymnasts show off their depth.  Who would have thought the season's highest scoring meet would not include the two best all-arounders?  These two code-breaking teams will meet again at next month's MPSF Championships.  This time, the meet will include Moldauer and Modi!
The Palo Alto Brawl was a classic example for why it's so important to have live scoring.  I hope people no longer wonder as to why I'm always bitching about live scoring.  Pac-12 Network and Stanford provided nice live-streaming coverage, ably handled by Cale Robinson and Ivana Hong.  Without a live-scoring feed, however, it would have been nearly impossible to keep up with the unfolding drama in real time.  Even the announcers were struggling to receive scoring info, but those watching the live scores already knew the scores.  Thanks to Oklahoma and Stanford for putting on one hell of a show!  It was a great day for Men's Gymnastics.  The men completely controlled and dominated the narrative of the sport.
Nebraska (418.35) had a big win at home over Iowa (413.50) and Penn State (409.60).  The Huskers defeated Penn State for the first time in the regular season since 1999 and the win over Iowa was their first since 2013.  It was Nebraska's top scoring effort of the season, as they won team events on FX, PH, PB and HB.  They improved their season best on PH (69.80) by almost 3 points.  Kyle King (FX-14.65) and Antonio Castro (PH-14.70) were event winners for Nebraska.  Iowa and Penn State split the remaining team titles on SR and VT, respectively.  Dom DiFulvio (SR-14.90) and Leroy Clarke (PB-14.80) were event winners for the Nittany Lions, while Dylan Ellsworth (VT-14.80) and freshman Andrew Herrador (HB-14.15) won for the Hawkeyes.  The Huskers' Chris Stephenson took top honors in the AA (83.50) with his season best.  Nebraska and Penn State will be idle next weekend, while Iowa travels to Minnesota.
Another nail biter of a meet took place at the Arnold Challenge.  Host Ohio State (415.25) narrowly held off Minnesota (413.30) in their first 5-Up/5-Count meet.  Jake Martin sealed the win with his big anchor role on HB (14.80).  The Buckeyes swept all six individual events, led by Sean Melton (FX-14.80), Alec Yoder (PH-14.60), Ryan Lemezis (SR-14.55), Seth Delbridge (VT-14.80), Jake Dastrup (PB-14.80) and Martin.  The Gophers, however, won team events on SR, VT and HB.  Leading scorers for Minnesota were Justin Karstadt (AA-83.20/Season high), freshman Ben Winkel (PB-14.50), Zach Liebler (VT-14.75) and Alex Wittenberg (FX-14.70).  Next weekend, Minnesota will host Arizona State and Iowa, while the Buckeyes will travel to Norman to take on the Sooners.
Illinois (409.45) won the Puerto Rico Challenge over Michigan (402.45) and Arizona State (381.05).  Alex Diab became only the third gymnast to score 15 on FX, as he took home the title on that apparatus.  He became a double winner after posting the high score on SR (14.45)  Matt Foster also hit the 15 mark for the first time, winning on PH (15.25) with a season best.  Johnny Jacobson also won an event for the Illini, recording the top score on PB (14.30).  Tyson Bull won again on his specialty event (HB-13.80).  Anthony McCallum (VT-14.90) was the lone event winner for Michigan.  Scores can be seen here.
At the Cal Benefit Cup, Air Force (403.90) outlasted Cal (395.75) and SoCal United (289.95).  The Falcons took four team event titles and four individual titles.  Timmy Wang was a triple winner on PH (14.70), SR (14.10) and VT (14.10).  He also was the top AAer (84.20), prevailing over Cal's Aaron Mah (81.60).  Casey Brannin was the leading scorer on PB (14.10).  Cal's only title was earned by Yordan Aleksandrov (HB-14.15).  The win was Air Force's first over Cal in the program's history.
William & Mary (394.30) got the weekend started on Friday with a big home victory over Navy (393.50).  The weekend's first close contest ended with the Tribe's Neal Courter clinching the win with a walk-off routine on HB (13.30).  William & Mary prevailed on four team events, and had three event winners.  Jacopo Gliozzi (PH-14.40), Rob Meyer (SR-13.70) and Tim O'Neill (VT-14.55) captured event titles.  Navy's Jonny Tang won the AA (79.80) and got the win on HB (13.60).  Freshmen Lucas Beltran (FX-14.00) and Tanner West (PB-14.40) also captured titles for the Mids.
Navy (401.90) won Sunday's matinee over Army (391.40) and host Springfield (380.50).  The Mids captured five team events and three individual events.  Jonny Tang led the way, taking the AA (81.80) and also winning on SR (13.70) and PB (13.80).  Lucas Beltran was victorious on FX (14.15).  Army's event winners were Andre Hufnagel (PH-14.50), Leo Genders (VT-14.45) and Nathan Goff (HB-13.95).  Chris Graff led the Springfield scoring effort, posting his team's best score in the AA (76.95).
At the Midwest Open, UIC (287.70) posted their season high in a quad meet with collegiate club teams from Wisconsin-Madison, Iowa and Minnesota.  Chris Root led the Flames with a season high on PB (14.10), and also hit for 13.50 on PH.
Not to be forgotten at the end of an exciting Saturday were some future college gymnasts.  Region 3 won the Elite Team Cup, and Brandon Briones (a high school sophomore) won the AA (82.90).
CLICK HERE FOR ALL THE NCAA STATS