Posted on 12 May 2017 by admin
By Shelli Koszdin
One night in August 2004, I turned on the TV to watch whatever Olympic stuff happened to be on at the moment (I had no idea in advance what that stuff was going to be). That moment happened to be the one where Paul Hamm fell on his butt in the men's all-around. The announcers seemed to think he had no chance for a medal. Knowing nothing about the sport of men's gymnastics, I had no reason to think they were wrong. But they were. Paul Hamm's last two routines were like nothing I'd ever seen before. The heart of a champion became visible to human eyes.
I had to know more about Paul Hamm and men's gymnastics. I checked my Direct TV catalogue for the upcoming men's gymnastics TV offerings. Silly me. Fortunately, by that time there was plenty of information and general gymnastics discussion on the Internet, so I was able to interact with other fans and slowly learn about the sport.
Fast forward to 2008. I happened to see a post on the Gymnastics Coaching blog that the men's NCAA gymnastics championships were coming to Stanford. I didn't know much about men's NCAA gymnastics, but I'd seen some of the NCAA athletes at Winter Cup, so I went. That was the first of many memorable competitions.
2008 was the year Stanford was favored to win at home, but in the last rotation Alex Buscaglia of Stanford fell on vault and Jon Horton of Oklahoma hit rings to sting Stanford for the win. I remember a few other things from those championships, such as the people sitting behind me asking each other "why doesn't Legendre do the pommel horse?" and many in the audience standing up to watch when Mitchell Mays of Minnesota went up in vault finals to try a tsuk double pike (by that point I knew that was hard!). I got a sense from watching the athletes that many of them would have stories. After that meet, I started to follow men's NCAA gymnastics because I wanted to find out what would happen next
In 2009, the Championships were in Minnesota. I didn't go, but sneaked peeks at the live scoring while at work. That year Steven Legendre won the All Around. I remembered watching him in 2008 and feeling "this guy is going to fight for every tenth if it kills him," like a human version of Seabiscuit.  Stanford won the team competition – there were tears of joy from the Stanford boys (which I saw on the tape-delayed ESPN broadcast).
"Watching" and trying to work at the same time was frustrating, so in 2010 I had to go to West Point to watch in person. Michigan won the team competition and Chris Cameron (MI) the all-around. That was the year the rings broke and caused a lot of drama, including what looked like a curlicue of steam rising out of the head of the Oklahoma coach after two of his men slipped off the rings. It was an awesome meet from the standpoint of someone who loves men's gymnastics, because it was five hours long.
In 2011, I went to Ohio State.  Stanford won the team competition and Sam Mikulak seemingly came out of nowhere to win the All Around. 2011 was also the year that for all California knew, this would be their last competition as a varsity team. Dennis Mannhart of California marched out on crutches.  It could be his team's last stand, and he wasn't going to miss it. He competed PH – I can't remember what kind of dismount he did, but he went up to the horse on crutches and left the mat on crutches.
In 2012, the Championships were at Oklahoma. My brother and sister-in-law went with me. Their son had been a gymnast, so they had an interest in the sport. They are also Illinois fans, so they ended up enjoying themselves, as Illinois and CJ Maestas came from behind to do to Oklahoma in Oklahoma's house what Oklahoma had done to Stanford in 2008. I have memories of Jake Dalton of Oklahoma (the eventual all around winner) doing an almost perfect vault…lots of celebration. Paul Ruggeri came along a bit later for the Illini with a big vault and a big smile as if to say "we shall see about that".
2013 it was on to Penn State with Michigan and Sam Mikulak dominating. There was plenty of excitement that year, with California missing the finals by 0.1 and Oklahoma punching far above their weight by coming in second with the 5th lowest difficulty in the final. I spent most of the night after prelims in the Penn State student center, as I could not even get a cab back to my hotel until around 5 am. It turned out there was some other sport (spring football) going on that weekend. When it was time to get to the final, I didn't bother calling a cab. There was no way I was missing that competition, so I walked on what was basically a freeway to get to Rec Hall.
2014 it was more Michigan and Sam Mikulak, this time at Michigan. As Michigan was expected to do well, there were clearly some in attendance who were there as fans of Michigan the institution, not so much gymnastics. We sat next to one of them, who started booing Minnesota during the march in. My sister in law lovingly tapped him on the arm and informed him "we don't do that here". At first, he was taken aback, but as the meet went on he and my sister in law made their peace, discussed the gymnastics, and enjoyed the meet.
In 2015, it was back to Oklahoma, where this time would be different. Oklahoma finally made it back on top of the podium for the first time since 2008. I screamed myself hoarse during prelims as the Cal Bears made it to the finals (considering their limited resources, close to a miracle).  Akash Modi of Stanford won the all-around to cheers of "Modi, Modi, Modi" and the "Let's Go Modi, Let's Go" riff on the San Francisco Giants cheer. During the finals, I sat near Sean Melton, Alex Johnson, and Larry Mayer, as injury-plagued Ohio State hadn't made it to the last dance.  Sean Melton was talking about "packing St John" the next year when Ohio State hosted. Personally, I never cared too much about being in an arena filled with people, but Sean's words made me realize how important it is to the athletes to have an audience to appreciate their performances and the hard work that goes into all they do.
Oklahoma continued its dominance at Ohio State in 2016, winning by the largest margin in the history of the men's NCAA championships, with the help of assistant coaches Taqiy-Abdullah Simmons and Steven Legendre, whom I had seen compete at my first NCAA meet back in 2008. The results of the team competition may have been a forgone conclusion, but the all-around was a pitched battle between Akash Modi and the eventual winner, Yul Moldauer of Oklahoma. Barring (as always) the unforeseen, I anticipate those two battling it out until Tokyo 2020.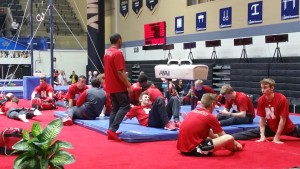 And finally, 2017 was the year of the most epic, fabulous men's gymnastics competition that has ever happened in the history of the Universe. The 2017 Men's NCAA championship at West Point.  And I've seen Uchimura win all his World Titles in person. This was better. Because it had everything. Nebraska surprising to make the final for the first time since 1999. The utter dominance of Oklahoma.  The dogfight between Ohio State (wearing patches on their uniforms in memory of recently deceased teammate Larry Mayer), Illinois (who's high execution score got them to the podium) and Stanford (who almost had it until two falls on HB put them out of the money for the first time since 2008). Akash Modi, Yul Moldauer, and Alan Bower fought it out in a dramatic three-way race for the all-around.  Moldauer opened the door with a fall on PH, which Modi ran through to prevail in the end. It was a fight down to the wire, with a game final performance by Moldauer on his weakest event (HB) to almost catch Modi.
Barring (as always) the unforeseen, I will be at UIC for the 2018 edition of the men's NCAA gymnastics championships. Because I want to find out what will happen next. With all the talk about formats, scoring, and rules, it's easy to lose sight of what sports are really about – stories. And people.