Posted on 02 May 2017 by admin
By Shelli Koszdin
"In the end, our society will be defined not only what by what we create, but by what we refuse to destroy."
John C Sawhill, president, The Nature Conservancy, 1990 – 2000.
The graph shown below starts from 1981-82, as the data collected by the NCAA from 1956 until 1981 was not collected in the same manner as the post 1981 data and included recreational programs. The largest number of men's gymnastics teams recorded by the NCAA between 1956 and 1981 was 124 in 1971-72. There is a discrepancy between this and the 200 plus teams that are said to have once existed. The simplest explanation is the "missing" teams were not in the NCAA, but in the NAIA, NCJCAA, and other non-NCAA athletic associations (environments where to the best of my knowledge men's gymnastics no longer exists).
The population of women's NCAA gymnastics teams decreased at close to the same rate at the men's until about 1992.  What factors intrinsic to the sport of gymnastics itself might have caused this?
Title lX was surely a factor in the decline of men's NCAA gymnastics, but there was also a net decline in men's teams from 1984 to mid-1988.  During that time, Title lX was not being applied to athletics because of a Supreme Court decision in Grove City College v. Bell (later "overturned" by Congress).
One cause that can be ruled out is the change from the 10.0 to open-ended scoring, as the changeover occurred in 2008, by which time the majority of men's NCAA gymnastics teams were already extinct.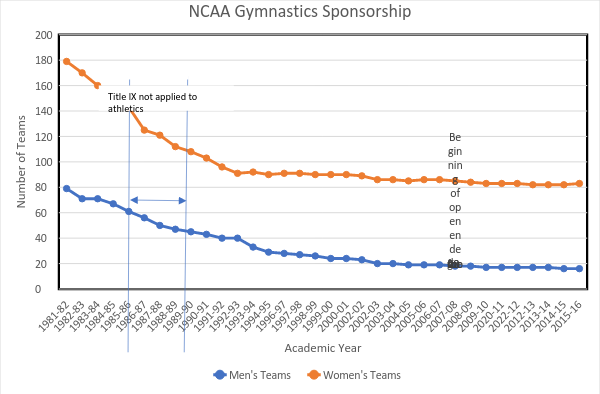 Source – http://www.ncaa.org/about/resources/research/sports-sponsorship-and-participation-research